Best Hiking Trails Around Toronto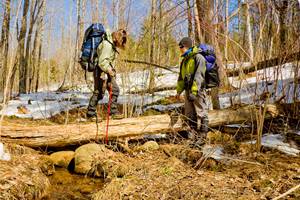 Hiking is one of the most enjoyable and healthiest outdoor activities that almost anyone can participate. In Canada, the beauty of the country gives added incentive to explore designated hiking trails and Toronto give the people in communities' many opportunities to get out and enjoy the area through The Ontario Trails Council (OTC).
Just 5.6 kilometer (3.5 miles) from the heart of Toronto, Crothers Woods has a trail system within the park that was named after George Crothers Ltd, a company that specialized in the repair and sale of second-hand construction equipment. The Urban Park is 52-hectares (128-acres) with hiking trails for the enthusiast. There are mature maple trees, beech trees, and oak trees that are located in the Don River valley area. The area is an Environmentally Significant Area because of its mostly undisturbed and mature forest. There is a presence of both herbaceous plants and species of trees that are rare to Toronto. Some of these species are the bitternut hickory, black walnut, eastern hemlock, and maple trees. Some herbaceous species are jack-in-the-pulpit, trillium and trout lily. There are about 10-kilometers (6.2 miles) of natural trails within the park.
This Urban Park sits on the border of Toronto and Pickering and is 35 kilometers (21.7 miles) from the heart of Toronto. It is slated to be the first national urban park of Canada in the greater Toronto area. The plan is to have this park stretch from Oak Ridges Moraine to Lake Ontario. There are approximately 12.7 kilometers of trails within Rouge Park between eight trails. Volunteers are available to take patrons on guided walks where they can learn and discover about the history of the area, learn about the natural habitat and discover the trails. There are many more things to do than hiking at the park. Activities abound with fishing, camping, canoeing, swimming, picnics, bird watching and cycling.
The escarpment known as 'The Bluffs', forms the East part of Toronto's waterfront along Lake Ontario and stretches 15 kilometers (9.3 miles).  The parks run side by side to each other as you explore 'The Bluffs' water's edge. If you walked from the Waterfront Trail from Crescentwood Park to the end at Rouge Bay, it would take approximately seven hours non-stop and 33.3 kilometers (20.7 miles). Of course, this is subjective to mapping and not the terrain that would be encountered or adjustments that would be made along the way. Stopping along "The Bluffs" to take in the scenery and history of the area would give the hiker a breather between some of the steep climbing along the way.
This Park and its trails are 38.8 kilometers (24.1 miles) SW from the heart of Toronto, along Lake Ontario. It is a small urban park, where trekkers can hike a recreational trail within the city., families and groups can go for outdoor activities. The Munn's Creek trail is blocked in by Dundas Road to its south, Upper Middle Road to its north, Sixth Line to its west, and Towne Boulevard to its east. The trail is also connected to Harman Gate Park, River Oaks Park, Margot Street Park and Elm Road Park, where a hiker can gain access to the trail.
This asphalt trail is 11 kilometer (6.8 miles) by car from the heart of Toronto. Taking the East Don River Trail walking to downtown Toronto would take about an hour and 4 kilometers (2.5 miles).  The whole Lower Don River trail is 8.4 kilometers (5.3 miles) long. Part of this trail is accessible by wheelchair and is nice for in-line skating and cycling as well. An added benefit is that the trail passes close enough to Crothers Woods if you want to take an extra detour. 
PATH: Toronto's Downtown Underground Pedestrian Walkway
For those who don't want to get wet on an overcast day and want a little incentive to get out and exercise and see a different side of Toronto. Try under the city in their City of Toronto underground. There are access points from subway stations and terminals, as well as some street entrances. You will be able to access hotels, cultural buildings, sports venues and major attractions. You cannot get lost because there are signs letting you know where you are, what street you are under, and it is easy enough to get directions or a map. That is what I call exercise!
Author: Michaele Wagner Photo by: Alex Indigo
Add Your Comment
Use the following form to leave your comment on this article.