Best Things to Do in Niagara Falls with Kids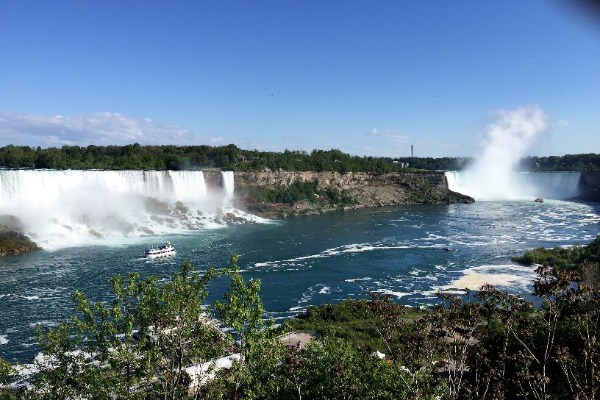 Niagara Falls is a world-renowned destination that offers a plethora of exciting and family-friendly activities. From the breathtaking views of the waterfalls to the thrilling experiences of boat trips and observation decks, there is something for everyone to enjoy. Families can explore the natural wonders of the area through activities such as the White Water Walk and the Journey Behind the Falls. For a more educational experience, the Niagara Parks Power Station provides a fascinating glimpse into the history of hydroelectric power. Clifton Hill offers a range of attractions including the Bird Kingdom, wax museums, mini golf, and haunted houses. Moreover, families can take advantage of the indoor water parks and outdoor observation decks to make the most of their visit. With its stunning views and endless opportunities for fun and adventure, Niagara Falls is the perfect destination for a memorable family trip. So pack your bags and get ready for an incredible experience at one of the world's most famous natural wonders.
What to Expect When Visiting With Kids
When planning a trip to Niagara Falls with kids, there are a few things parents should be prepared for. First and foremost, be aware that there may be long lines at the border crossing, especially during peak travel times. It's a good idea to plan accordingly and have some entertainment or snacks on hand to keep the little ones occupied.
Another important factor to consider is the weather. Niagara Falls is known for its misty atmosphere, so be sure to pack raincoats or ponchos for the whole family. Non-slip shoes are also recommended, as the pathways near the falls can be wet and slippery.
In addition to the main attraction, there are plenty of other family-friendly activities to enjoy in the area. Consider taking a day trip to nearby attractions like Clifton Hill, where your kids can have a blast at the indoor waterpark or enjoy a thrilling ride on the Niagara SkyWheel.
Overall, visiting Niagara Falls with kids can be an amazing experience. Just be prepared for the border crossing, pack the right gear, and explore the nearby attractions for a memorable family trip.
Niagara Falls State Park
Niagara Falls State Park is the perfect family destination at the heart of Niagara Falls. As the oldest U.S. state park, it offers diverse attractions for kids.
The park provides up-close views of the falls from observation decks, creating awe-inspiring moments for children. Outdoor activities like hiking, biking, and picnicking make for a delightful day in nature.
The park also boasts educational exhibits, like the Niagara Gorge Discovery Center, where kids can explore the falls' geological history. With family-friendly amenities, including accessible walkways and clean facilities, Niagara Falls State Park ensures a convenient and memorable family outing.
The Skylon Tower's Observation Deck, soaring 775 feet above Niagara Falls, delivers breathtaking panoramic vistas. On clear days, visitors can savor views of the Great Gorge, the Niagara wine district, and city skylines of Buffalo, New York, and Toronto.
This attraction offers more than just mesmerizing views. Guests can relish world-class dining at either the renowned Revolving Dining Room Restaurant or the Summit Suite Buffet Dining Room, both offering a unique culinary journey. Dining at either restaurant includes free admission to the Ride-to-the-Top and Observation Decks attractions.
The high-speed elevator ride, which takes less than a minute, adds to the thrill. The Observation Deck at Skylon Tower is a must-visit for families exploring Niagara Falls, combining incredible views with remarkable dining for an unforgettable experience. Don't miss this opportunity to soak in the beauty of the falls from this remarkable vantage point.
White Water Walk
Niagara Falls' White Water Walk is an exhilarating family experience. The attraction features a secure boardwalk and viewing platforms offering an up-close encounter with Class-6 rapids.
The boardwalk is the highlight, placing you next to the roaring rapids for a breathtaking view. Feel the mist and hear the thunderous water, creating unforgettable moments for kids and adults.
Beyond the excitement, safe viewing platforms provide a unique perspective on the turbulent Class-6 rapids. Interpretive displays offer insights into the area's geology and wildlife. White Water Walk is a must-visit, blending thrills and education for families.
The Niagara Scenic Trolley
The Niagara Scenic Trolley is the ideal way for families to effortlessly explore the wonders of Niagara Falls and its surroundings. This trolley simplifies navigating attractions, allowing families to focus on creating lasting memories.
The trolley route features key stops that captivate kids, such as Clifton Hill, a bustling street with wax museums, mini-golf, and haunted houses. It also visits the Bird Kingdom, offering a tropical rainforest experience with exotic birds. For adventure seekers, the trolley connects to Hornblower Niagara Cruises, providing up-close boat trips to the falls.
Moreover, the trolley route includes Table Rock Welcome Centre for incredible waterfalls views and access to Journey Behind the Falls, as well as stops at the Fallsview Indoor Waterpark and Niagara Parks for indoor and outdoor activities. With the Niagara Scenic Trolley, exploring Niagara Falls' top attractions becomes both convenient and fun. Hop on board for an unforgettable adventure!
When visiting Niagara Falls with kids, consider the Niagara Gorge Trail Hike, an outstanding family-friendly activity that offers both stunning views and a peaceful retreat from the crowds. Begin your adventure at the Niagara Glen Nature Center, where you can obtain all necessary trail information and maps. The trails cater to all ages and fitness levels, ensuring a delightful experience for everyone.
As you traverse the paths, you'll be captivated by the gorge's beauty and the breathtaking views it presents. The towering cliffs, rushing rapids, and lush greenery form a picturesque backdrop that's hard to match. Remember to wear appropriate hiking footwear and pack essentials like water, sunscreen, and snacks to ensure everyone's comfort during the hike.
The Niagara Gorge Trail Hike provides an excellent opportunity for families to explore the area while enjoying a tranquil escape from the crowds. Grab your hiking gear and embark on this adventure for an unforgettable experience in Niagara Falls.
Cave of the Winds Tour
The Cave of the Winds Tour offers an exhilarating experience for kids at Niagara Falls, allowing visitors to intimately connect with the falls' power and beauty. The adventure kicks off with a brief yet thrilling elevator ride down to the base of the falls. From there, a boardwalk leads you right to the edge of Bridal Veil Falls, where you'll feel the mist on your face and hear the thunderous roar of the cascading water.
But the excitement doesn't end there. Continuing along the boardwalk takes you to the Hurricane level, where you'll experience the full force of the falls. The wooden steps leading to this level add to the adventure, providing a sense of the falls' power and grandeur. What truly sets the Cave of the Winds Tour apart is the chance to touch the falls' edges, allowing you to fully grasp the raw power and beauty of nature in action.
For an unforgettable and thrilling experience that will create lifelong memories, don't miss the Cave of the Winds Tour on your family trip to Niagara Falls.
One of the must-visit attractions in Niagara Falls for families is Queen Victoria Park. Located along the Niagara River, this beautiful park offers stunning views of the falls and a wide range of family-friendly activities. As you explore the park, you'll find manicured gardens, pathways for strolling or biking, and plenty of open space for games and picnics. Be sure to check out the Floral Clock, a unique timepiece made entirely of flowers, and the Queenston Heights Park, which offers panoramic views of the surrounding area. With its serene atmosphere and incredible views, Queen Victoria Park is the perfect place to relax and enjoy a family outing in the heart of Niagara Falls.
Hornblower Niagara Cruises
Hornblower Niagara Cruises is your ticket to a thrilling Niagara Falls experience. This must-do boat tour gets you up close to the breathtaking Horseshoe Falls. With four different cruise options, you can choose the perspective and duration that suits your family, from the 20-minute Voyage to the Falls to the exclusive 40-minute Falls Fireworks Cruise. Conveniently located at Niagara Parkway, Niagara Falls, ON L2E 6T2, it's easily accessible and close to other attractions. For booking and information, contact Hornblower Niagara Cruises at +1 905-642-4272 or visit www.niagaracruises.com. Don't miss this incredible chance to witness the awe-inspiring power and beauty of the Horseshoe Falls up close - an experience your family will treasure for a lifetime.
The Floral Clock and Botanical Gardens are must-visit attractions during your family trip to Niagara Falls, offering a unique blend of beauty and tranquility. The Floral Clock, a one-of-a-kind masterpiece made of colorful flowers, is sure to leave you and your kids in awe. Just a short stroll away, the expansive Botanical Gardens span 99 acres and feature accessible trails winding through meticulously manicured landscapes with over 2,400 roses. It's the perfect spot for a leisurely family stroll, immersing yourselves in the beauty of nature.
Visiting these attractions provides a serene escape from the bustling energy of Niagara Falls, allowing you to unwind and appreciate the region's natural splendor. Don't miss the chance to experience the awe-inspiring Floral Clock and Botanical Gardens during your Niagara Falls adventure.
Table Rock Welcome Centre, located in Niagara Falls, provides an incredible and up-close view of the world-famous waterfalls, making it a must-visit for families seeking an amazing experience. The center's highlight is the Journey Behind the Falls, a thrilling tour that lets visitors explore tunnels and observation decks carved into the bedrock, offering a unique vantage point of the falls, and creating an unforgettable experience for both kids and adults.
In addition to breathtaking views, the Table Rock Welcome Centre offers various family-friendly activities to keep everyone entertained. Kids will delight in Pop & Lolly's Candy Shop, a delightful haven for satisfying their sweet tooth with a wide variety of candies and chocolates. With its panoramic views, thrilling experiences like the Journey Behind the Falls tour, and fun-filled attractions like Pop & Lolly's Candy Shop, the Table Rock Welcome Centre is a must-visit for families exploring Niagara Falls with kids.
Clifton Hill Attractions
Clifton Hill, located in the heart of Niagara Falls, is a vibrant and lively destination that should be at the top of your list when visiting the area with your family. This bustling street is filled with a plethora of attractions that offer an array of exciting activities suitable for children of all ages. From adventure parks to interactive museums, Clifton Hill provides an action-packed day for the whole family to enjoy. Get ready for a memorable experience that guarantees thrilling rides, games, and entertainment, making it the perfect spot for families seeking fun and excitement.
One of the standout attractions on Clifton Hill is the Clifton Hill Adventure Park. This amusement park is an adrenaline-pumping paradise filled with thrilling rides and attractions designed to keep your kids entertained all day long. From towering Ferris wheels that offer breathtaking views of the falls to exciting roller coasters and water slides, the adventure park has something for everyone in the family. The laughter, excitement, and unforgettable moments you'll share here make it an essential stop for any family visiting Niagara Falls.
In addition to the adventure park, Clifton Hill boasts various wax museums that allow your kids to step into the world of their favorite celebrities and historical figures. This unique opportunity for up-close encounters with movie stars, sports icons, and even superheroes is sure to leave your children in awe. As they pose for pictures with their favorite figures, it's an experience that combines education with entertainment, making it a must-do for families looking to create lasting memories in Niagara Falls.
For an incredible and comfortable experience with amazing views in Niagara Falls, don't miss the SkyWheel Ferris Wheel Ride. As the largest Ferris wheel in Canada, soaring at 175 feet, it offers breathtaking panoramic views of Niagara Falls, the Niagara River, and the town below, whether you visit during the day or at night. What sets the SkyWheel apart is its heated cabins, ensuring year-round comfort while you soak in the stunning vistas.
This remarkable ride is perfect for families and visitors of all ages, combining thrills with a fresh perspective on Niagara Falls. Make sure to add the SkyWheel to your Niagara Falls itinerary and embark on this unforgettable adventure high above the falls.
Haunted Houses and Wax Museums
For family-friendly fun beyond the natural wonders of Niagara Falls, explore the Haunted Houses and Wax Museums. These unique attractions blend entertainment and education, appealing to kids of all ages.
Visit the Movieland Wax Museum to get up close with lifelike wax figures of your favorite celebrities from the world of film, television, and music. It's a must-see for fans of celebrity culture, offering fantastic photo opportunities.
Niagara Falls also hosts other captivating wax museums, including Louis Tussaud's Waxworks and the Niagara Falls History Museum, each with its own distinctive collection of wax figures and engaging exhibits. These attractions provide an unforgettable and educational experience for the whole family, whether you're a movie enthusiast, a history buff, or simply curious about famous personalities. Don't miss out on the excitement of Niagara Falls beyond its natural beauty.
Add Your Comment
Use the following form to leave your comment on this article.