Sun and Snow Eye Protection Tips for a Visit to Banff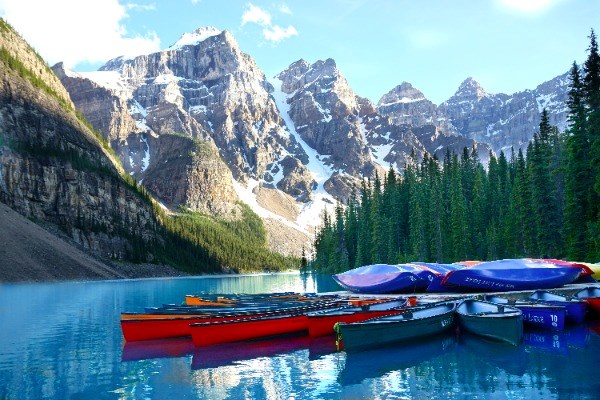 Canada is home to a number of renowned national parks, making it an ideal destination for outdoor enthusiasts. At the top of the list is the ever-popular Banff National Park, which draws in up to 4 million visitors annually who are eager to hike, ski, and explore its rich biodiversity. Whether you find yourself there in the radiant summer sun or amidst the serene winter snowfall, Banff's allure remains constant throughout the year.
However, navigating the diverse sites of the Canadian Rockies demands a versatile approach to sun and snow protection. Snow blindness, or sunburned eyes, can occur in Banff due to the sun's intense rays reflecting off snow or water, even in seasons other than winter. Snow blindness is painful and can result in blurry vision, a burning sensation in the eyes, headache, and swelling. Fortunately, this can be prevented with the right protective gear.
In this article, we'll highlight a few of the national park's unique attractions and give you some essential tips to shield yourself from the snow and the sun, allowing you to relish the magic of Banff while safeguarding your well-being against the elements.
Things to Do in Banff
Regardless of when you decide to take a trip to Banff, there is no shortage of activities to keep you busy. During the warmer months from June to August, the sunnier weather sets up ideal conditions to explore the network of hiking trails where you can often spot wildlife, enjoy a canoeing adventure on the calm waters of Moraine Lake, or go whitewater rafting. For the seven months out of the year that Banff is covered in snow, you can indulge in world-class skiing on the slopes of Sunshine Village or Mount Norquay, take a dog sledding tour, or snowshoe through the Johnson Lake trail.
Throughout the seasons, we highly recommend visiting the Cave and Basin National Historic Site, taking a dip in the Banff Upper Hot Springs, and riding the Banff Gondola for the best panoramic views. If you'll be staying in the area for an extended period, you can also save money by purchasing a Canada Discovery Pass, which grants access to Banff National Park, the Cave and Basin site, as well as the hot springs.
Sun and Snow Eye Protection Tips
Dress Appropriately
Dressing according to the weather and planned activities is crucial for comfort, safety, and enjoyment. In the winter, headwear that can comfortably fit with snow goggles helps retain body heat and shield against cold temperatures. Kombi's Unisex RedHeat Act Balaclava, made with temperature-regulating fabric, is perfect for skiing or snowboarding excursions. You can also check out Roots's One Toque merino wool hat for less strenuous activities. In the warmer months, you can wear a wide-brimmed summer hat that provides shade and relief from the mountain sun.
Wear Sunglasses
Eye protection is essential whether you'll be visiting Banff in summer or winter, as snow blindness can occur year-round. In summer, the intense sunlight at higher elevations can lead to glare and UV exposure, increasing the risk of eye strain and damage. During winter, the snow will reflect sunlight, intensifying its damaging effects. Quality sunglasses with UV protection not only shield your eyes from harmful rays but also enhance visibility, which is especially vital if you're skiing or hiking. For this, you can check out sunglasses specifically designed for high-performance activities. The Oakley Sutro, for instance, is great for snow sports due to its weight and durability. Prizm Lens Technology can also help to protect your eyes from the elements and improve vision.
Apply Sunscreen
Sunscreen is equally important to prevent sunburn because being in high mountains like Banff means the air is thinner and provides less protection from UV rays. With the sun's rays bouncing off snowy surfaces, exposed areas of your skin, especially around the eyes, become extremely vulnerable to sun damage. As such, you need to be diligent in applying sunscreen with an SPF of 30 or higher on your face and ears when outside. So, don't forget to pack a tube of sunscreen like Neutrogena Hydro Boost Water Gel Sunscreen with SPF 50.
Sun and snow eye protection are crucial considerations for a visit to Banff due to the unique combination of high-altitude sunlight and immaculate winter conditions. By prioritizing essentials like hats, sunglasses, and sunscreen to shield the eyes from harsh conditions, visitors not only safeguard their health but also enhance their overall experience, ensuring they can fully embrace the beauty of Banff's snowy panoramas and sunlit mountain vistas.
Add Your Comment
Use the following form to leave your comment on this article.